Sep 16, 2021
Lesedauer: 10 Min.
Ansichten
The COVID-19 pandemic has become a significant source of stress for healthcare systems around the world. The workload on medical staff has increased, leading to their burnout. The structure of hospitals and the first-aid treatment priorities have changed. For patients, self-isolation measures have been associated with stress. These constraints have stimulated healthcare companies to seek solutions that will make patient care flexible and adaptable. The Future Health Index 2021 has been conducted at the commission of Philips for six straight years. In this article, we will talk about software technology trends in healthcare over the next three years and what global business leaders think about the future of medicine.
The Future Health Index 2021: keynotes
The current index reflects the results of a survey of leading healthcare players from 14 developed countries in five continents and combines qualitative and quantitative approaches in preparing the results.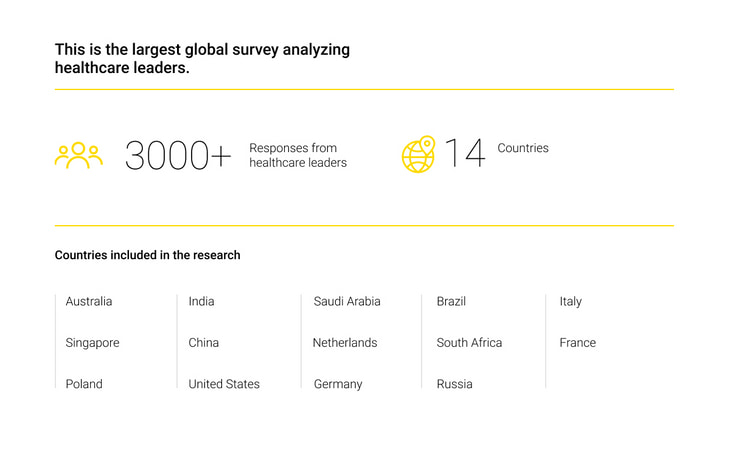 The survey was conducted from December 2020 to March 2021. It reflects healthcare insiders' attempt to look beyond the horizon of the post-covid world, indicating the leading trends for the next three years.
To begin with, attention is drawn to the very title of the current index - "A resilient future." The maximum emphasis is placed on this factor in the vision of challenges and prospects for the near future.
The pandemic situation has revealed a number of problems in the development of national healthcare systems and sharply raised the question of achieving a state of readiness to prevent emerging challenges as effectively as possible, instead of responding to them post factum. The red flag is the figures of losses incurred by hospitals and the US healthcare system in the first half of 2020 alone - more than $200 million as a price to pay for the lack of "resilience." However, at the moment, about 86% of those surveyed believe that national healthcare systems and hospitals are resilient enough to withstand the current crisis and are ready for possible future shocks.
One of the main trends in the development of the healthcare system is its further digitalization. This aligns with the estimates of the PwC experts:
"The next decade is moving towards medical solutions – using AI, robotics, and virtual and augmented reality – to deliver intelligent solutions for both evidence- and outcome-based health and focusing on collaborative, preventative care."
At the current stage, among the digitalization trend leaders are such areas as TeleMedicine, virtual assistance, and the development of AI in healthcare. While about 69% of industry leaders are concerned about overcoming the consequences of the current crisis and are less ready to think about the future, 42% of them are moving towards the introduction of new technologies in the field of remote and virtual assistance. This paves the way for healthcare software development companies and companies producing related devices.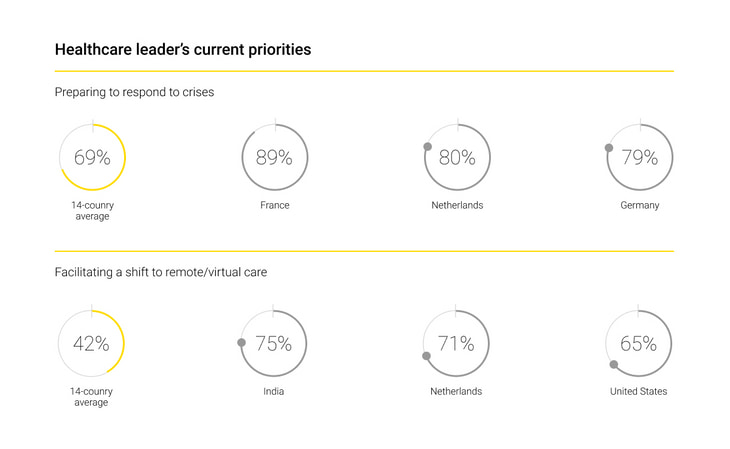 The TeleMedicine market
Although remaining stable in recent years and showing a significant increase in investments and inventions, the trend of TeleMedicine development already has an obvious downward trend and a minimum reserve of valid growth. The volume of investments in this sphere is predicted to decrease within three years by 24% in comparison with the indicators of 2020 and may amount to 40%. The healthcare systems of the USA, Saudi Arabia, and the Netherlands will be the leaders in implementation (over 80%).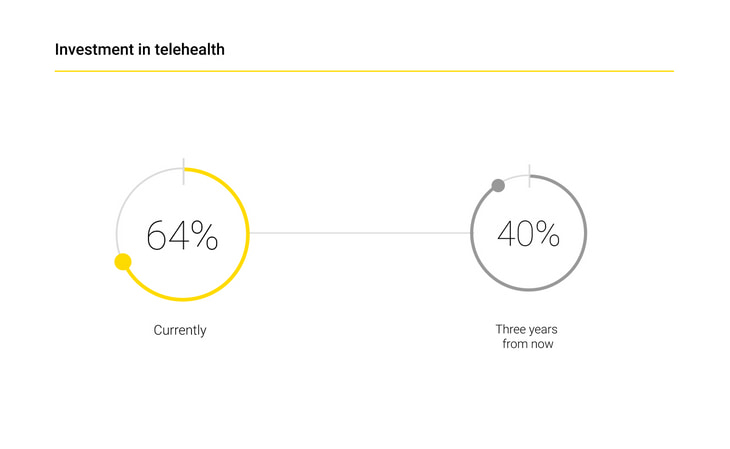 To explain this phenomenon, we can name several reasons. On the one hand, the efforts undertaken to deploy a global virtual aid system have already borne fruit and require much fewer resources for their maintenance and development than before. Additional investment in the industry could propel more advanced TeleMedicine application developments, but the market is close to saturation and is unlikely to offer significant profits to companies specializing in this area. Here, points of growth will most likely be devices for remote patient monitoring and ambient assisted living for elderly patients or people with disabilities.
On the other hand, the uncertain situation in the insurance reimbursement market remains an important factor suppressing the growth of investments in TeleMedicine. Most leaders of the healthcare system assess it extremely cautiously and consider it a temporary measure that can be canceled at the end of the coronavirus crisis (about 24% of respondents directly refer to this).
Investments in AI
Most of the leaders surveyed consider the use of healthcare software solutions based on AI/ML as a predictably important trend. Such technologies make it possible to:
better plan and predict events,
optimize efficiency,
improve diagnostics and clinical decision-making mechanisms.
This aligns with the views of most business leaders in the US and other countries. According to surveys by RELX and Gartner, amid the threats of the pandemic, 77% of global companies planned to increase or maintain their investments in AI development. However, in areas such as medicine, healthcare, and insurance, the use of AI technologies for US companies has already grown by 20-40% over the past couple of years. It seems obvious that this trend will continue and even intensify in the near future.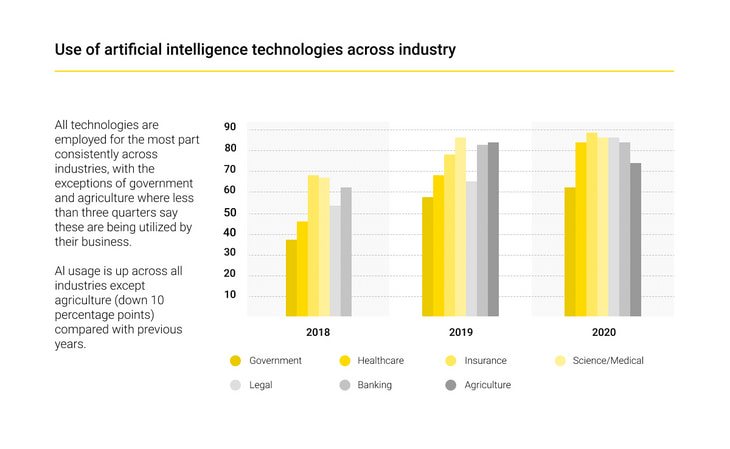 Participants from the US, Saudi Arabia, and India retain the highest expectations from increased investment in AI solutions in healthcare intended to confidently address future challenges (57-78% of respondents). The most skeptical in this regard are participants from France and Singapore - although this might be due to their belief that AI technologies in healthcare are working well at the current level (over 60%). On average, about 40% of survey participants believe that for the next three years, the introduction of AI technologies in healthcare is an important step towards the sustainability of the system. In addition to standard AI/ML tools, healthcare institutions are actively introducing cloud technologies to accelerate resource-intensive tasks, such as automatic tracking of outpatients with COVID-19.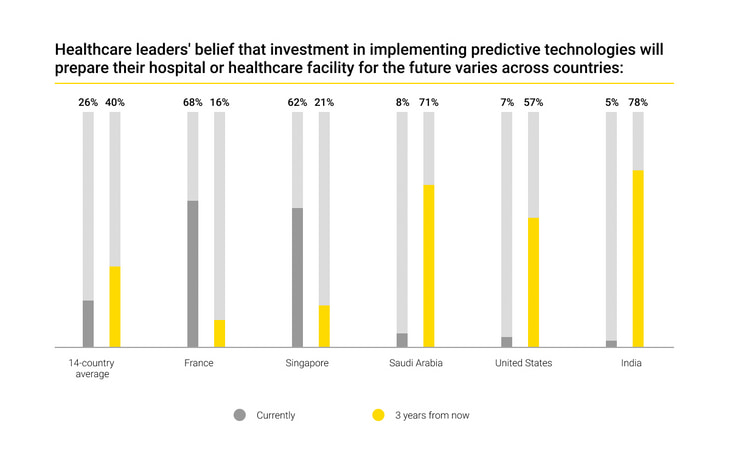 Leaders of healthcare organizations (36%) are willing to build partnerships with tech companies developing corresponding digital tools to further improve technologies in the market. Such expectations are especially high among the representatives of France (77%) and Italy (63%). About a quarter of the respondents believe that it is important both to actively work on the development of the appropriate infrastructure and interact with private medical centers to accelerate the advancement of digital technologies.
Difficulties in technology introduction
Most healthcare leaders believe that the main barriers to the implementation of digital technologies boil down to a complex of three reasons:
difficulties with data management,
interoperability problem,
insufficient training of employees in the use of technology.
About 53% of those surveyed see the last factor as the key obstacle to a sustainable future based on new technologies. It is revealing that these problems almost equally characterize the situation with healthcare in not only developed but also developing countries. Both investors and national healthcare officials should pay special attention to this.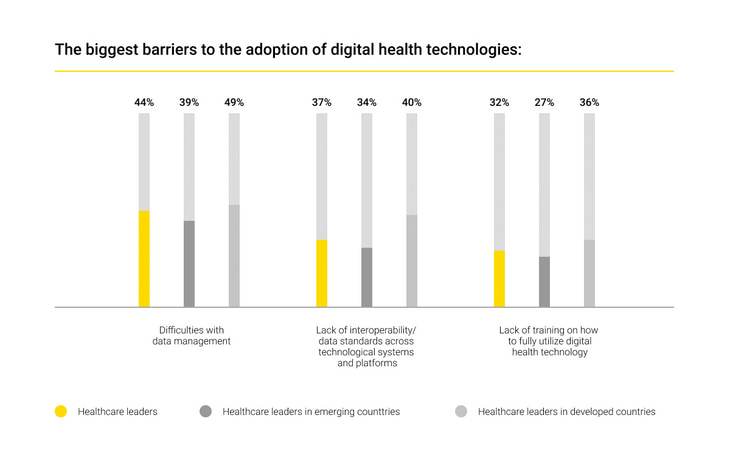 Reorientation of healthcare systems
A future considerable reorientation of health systems is evidenced by two major trends:
turning to value-based care in spite of the comprehensive approach,
sustainability as a key development factor.
Value-based care (VBC) is an approach suggested by the American economist and Harvard Business School professor Michael Porter, which presupposes:
maximization of treatment regimens in terms of optimizing the cost-benefit ratio for the benefit of a patient,
transition from monetization of individual procedures and prescriptions to comprehensive payment for treatment,
focus not on inpatient facilities but on integrated care units,
significant extension of partnerships and introduction of new information systems.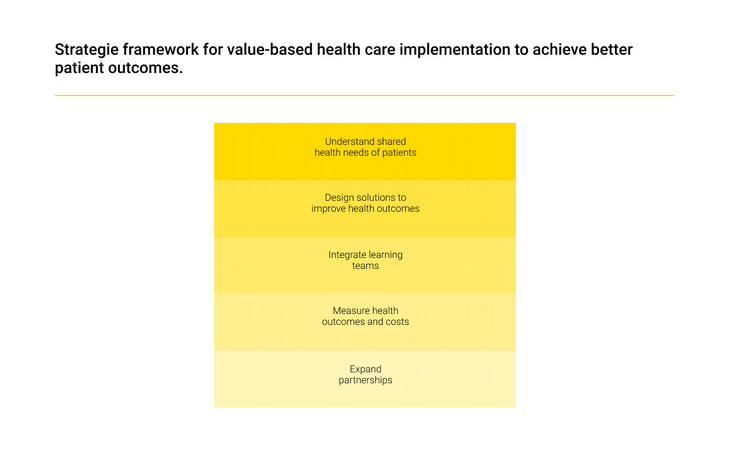 In general, about 60% of leaders in this sphere are inclined to implement this healthcare model. Representatives of Germany (86%), India (88%), and Saudi Arabia (94%) are ready to provide the greatest assistance. In the context of a pandemic, many survey participants don't consider this task a priority, but about a third of them see it as a leading trend in future development or are already using some elements of the model in current conditions. Here, the growth driver is predominantly digital technologies: AI decision-making tools, interoperable and smart product architectures, and wide connectivity and interaction of equipment and devices.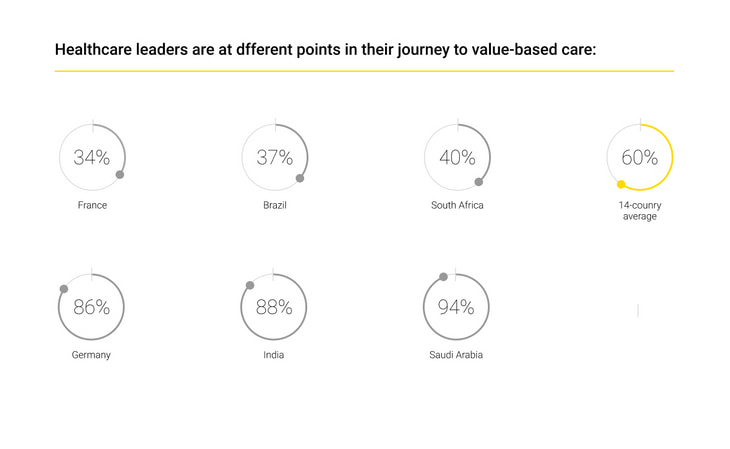 The framework of the VBC model presupposes an increase in the emphasis on providing care in out-of-hospital conditions: in primary and urgent care facilities, pharmacies, recreational centers, and at home. As a result, technologies of TeleMedicine and remote patient monitoring are becoming the most in-demand. This is driven by both healthcare lessons during the pandemic and such benefits as low price, fast speed, and accessibility of services. According to a quarter of the respondents, such technologies make it possible to perform routine treatment procedures in out-of-hospital facilities.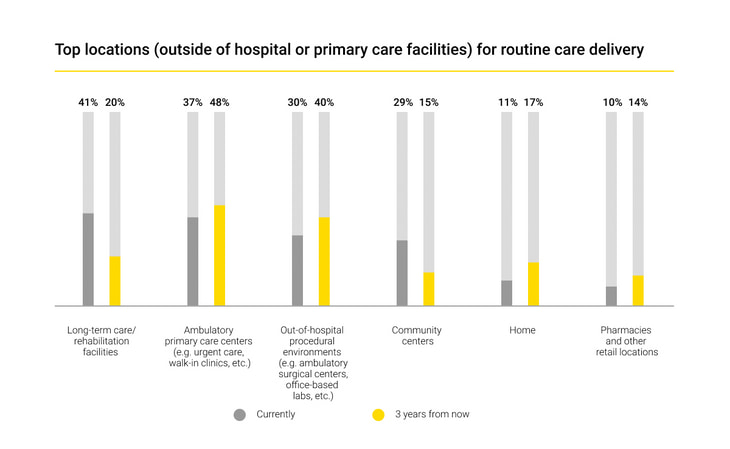 As for resilience, which 58% of respondents indicate as a development priority in the coming years, it is implied in both of the following senses.
On the one hand, it is about the environmental component of future technologies and their green nature: the use of durable materials, TeleMedicine and virtual assistance reducing traffic and logistics, circular business models, eco-friendly surgeries, etc. Some aspects of the fight against the pandemic (for example, disposable masks) have had an adverse impact on this trend, but this may also be a factor in increasing attention to the problem.
On the other hand, resilience is also understood as the system's resistance to future challenges and crises. This perception has been strongly influenced by the current pandemic situation.
Conclusion
The Future Health Index 2021 shows us the main trends in healthcare development over the next three years through the eyes of organization leaders operating in this field. The survey results will be interesting to healthcare software development companies and IT providers.
Key priorities in healthcare are becoming:
resilience of healthcare systems in coping with crises and ensuring a secure future,
transition to VBC based on the principles of the expanded partnership,
increase in integrated and remote assistance,
focus on the effectiveness of treatment regimens and minimizing costs.
It is assumed that healthcare organizations will focus on the development of TeleMedicine and AI services in healthcare. At the same time, the TeleMedicine trend, though persisting, has a minimum growth threshold, while the development of AI solutions in healthcare looks much more attractive.
The main hindrances to digital technology introduction are similar in developed and emerging economies and related to insufficient training, interoperability issues, and poor data management.
Wir sind immer bereit, Ihre Herausforderung zu analysieren und Ihnen dabei zu helfen. Rufen Sie uns für einen Start an!
Kostenlose Beratung anfordern
Benötigen Sie Unterstützung bei der kundenspezifischen Softwareentwicklung?
Weitere Schritte
Nach Analyse Ihrer Geschäftsanforderungen wird unser Experte Sie umgehend kontaktieren
Bei Bedarf können wir auch eine NDA unterzeichnen, um den Datenschutz zu gewährleisten
Unser Pre-Sales-Manager wird Ihnen ein umfassendes Projektangebot vorlegen, das Schätzungen, Fristen und Kandidatenprofile für Ihre spezifische Anfrage enthält
Kunden, die uns vertrauen:
Kostenlose Beratung anfordern
Benötigen Sie Unterstützung bei der kundenspezifischen Softwareentwicklung?