For over 30 years, since it emerged, the outsourcing services market has become an important business area. Having started with cost-saving as a primary goal, outsourcing offered more and more new benefits that fueled its further growth. There is no doubt that the number of these advantages will only grow in the future. This article will familiarize you with the key benefits of outsourced IT support services that our clients have already received.
Cost-saving
Saving financial resources is the first thing that comes to mind when talking about outsourcing client support services. Indeed, it is cost-effectiveness that is the most important factor explaining the popularity of outsourcing support services. The budget-saving from moving a support center from the United States to the CIS, Latin America, or Asia can amount to hundreds of thousands or even millions of dollars per year, which is a significant sum for any business.
Costs for outsourced IT support are usually transparent and predictable, while costs for your own support team will include such items as:
hiring support agents;
training;
buying equipment;
buying licensed software;
renting workplaces;
additional office expenses, etc.
Of course, outsourcing services have these costs too. However, firstly, they are already included in the fixed price, and secondly, these costs are often less due to the fact that they are shared between many clients.
A pool of available support agents
Outsourcing support organizations employ a large number of specialists.
Therefore, they can redistribute agents between clients, if necessary, based on the needs of a particular customer. A common situation is an expansion in the number of support agents at the beginning of seasonal peaks for firms operating in the seasonal sales market.
The outsourcing company monitors the workload of agents and, if necessary, increases or reduces their number. If you have your own support team, both increasing and reducing it will be much more difficult and expensive.
In addition to the flexible resizing of support teams, outsourcing organizations also train their engineers much more comprehensively. Compliance with the terms of the contract with the client depends on how quickly the new specialist is able to fully perform their work. And non-compliance, in turn, leads to fines and reputational risks, which nowadays can be even worse than direct financial losses.
Skills of support agents
In most cases, the level of professional skills of specialists working in outsourcing support organizations is noticeably higher than that of internal support teams. This makes sense, as the former devote themselves entirely to this area, receive high-quality training, work surrounded by other experts, etc. Not surprisingly, they grow professionally much faster.
All this doesn't mean that there is no staff turnover in outsourcing support companies. Still, this turnover is less than in other areas; moreover, it is controlled and managed. If an expert agent has outgrown their role and leaves the company, this won't be a problem, as a replacement for this specialist has already reached the necessary level.
The key indicator for the client is compliance with the level of service outlined in the contract, and hence the main task of outsourcing managers is to ensure that these conditions are met. And this is impossible without detailed control of each agent's effectiveness and, if necessary, intensive training or correction of any mistakes. Such increased control yields results that allow outsourcing companies to guarantee compliance with the terms of the service agreement in the vast majority of cases.
Service-level agreement
The big advantage of working with outsourcing support organizations is that they ensure that a service-level agreement (or SLA) is met. What this level will be depends on the client's requirements and budget, as well as on the capabilities of the outsourcing service. In addition, what is important is that the contract prescribes penalties for non-compliance with the SLA, which obliges the contractor to carry out its responsibilities.
Internal support services can promise to meet a certain level of service too - but this is not the norm, and penalties for non-compliance are extremely rare. For outsourcing support contracts, in contrast, the presence of a section on penalties for non-compliance with the SLA is mandatory.
Another plus is that outsourcing companies are very flexible to customer requirements. In the era of high competition, the willingness of service departments to make adjustments in response to customers' wishes is extremely important. Of course, additional requirements may cost additional money, but the client will get what they want, and the outsourcing company will expand the list of its services.
Efficient processes and procedures
A company that is professionally engaged in outsourcing services pays great attention to the efficiency of internal processes. Employees' efficiency and their satisfaction with the work they do depend on how well the management has arranged the stages of work that affect each of them. That's why outsourcing support companies devote a lot of effort to building effective, transparent, and mature processes and procedures - both for their own benefit and for the convenience of customers. It's not like other companies don't do this, but in outsourcing companies, this process is one of the most important due to their specialization.
A wealth of professional experience and a solid reputation
A professional reputation is more important nowadays than ever. Having a wide choice, the client can afford to be picky and consider only contractors with a large professional portfolio and a positive reputation in the service market. Of course, the largest portfolio and widest experience belong to those outsourcing companies that are solely focused on providing support services.
Such expertise gives great chances for a high-quality level of service for future customers. As for reputation, a positive one increases the level of trust in companies, and a negative one, on the contrary, reduces it. Experience and reputation are important when evaluating a potential outsourcing contractor, but you can be sure that the best in their field have both a large portfolio and a positive reputation in the market.
An opportunity to free up resources for something more important
By outsourcing support, organizations free up resources: both financial and administrative. The managers can spend that time on important tasks and strategic projects that can accelerate the achievement of the organization's goals. And operational support can be left for outsourcing company managers. Of course, control over meeting the quality of the outsourcing service is necessary, and there is no escape from communication with the outsourcing company. But the time spent on this will be much less than on managing your own support service.
Many firms don't consider this opportunity as one of the potential benefits of cooperating with outsourcing companies, and that's a major oversight. The level of possible benefits from new projects is not limited by anything, and the freed-up time of people who are able to plan and implement strategically important tasks can be exactly the accelerator that will take the organization to a new level. And this is without new investments, solely by reforming the current work scheme.
Conclusion
The field of client outsourcing support services is growing and developing every year, bringing more and more benefits to organizations in various business areas. The benefits of such cooperation turn these companies from contractors into business partners, and the transparency of the quality and cost of their work only contributes to their popularity.
In addition, the current global crisis and the massive transition to remote work require a revision of attitudes and habits. Is this not a reason to think about what outsourcing services can give you and your organization? Contact us, and we will discuss how Andersen's experience and approach can help your business.
Read the previous article Benefits of IT Outsourcing for Application Support
Hi, I am Yaroslav Masich, Head of Technical Support at Andersen. We help organizations from various industries to get more benefits from their customer support function than they expect. We believe in a win-win approach and treat ourselves as partners instead of an outsourcer team. And our clients respect such an approach because they see the benefits from it. This is very important in the current times to have a partner with great professional experience who cares about your business and helps you to improve it. Contact me using this button, and I'll be glad to discuss how our cooperation can help your business.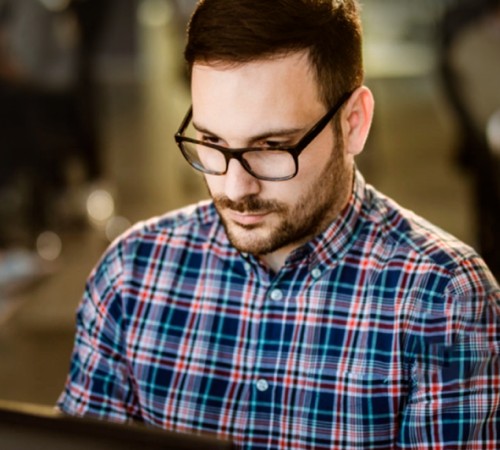 See the opportunity to IT Support Services easy as never before
Discover the full power of IT Support Services provided by Andersen
Weiterlesen